Dorking Aikido and Kenjutsu Dojo
Welcome to our Dojo! Here we practice Aikido alongside the Kenjutsu (sword form) of Kashima No Tachi.
Aikido is a modern Japanese form of self-defence created from other martial arts by Morihei Ueshiba around 1930.
The Kashima No tachi is a sword practice that originates from Japan and has been passed down to us through teachers of the Shiseikan Dojo in Japan.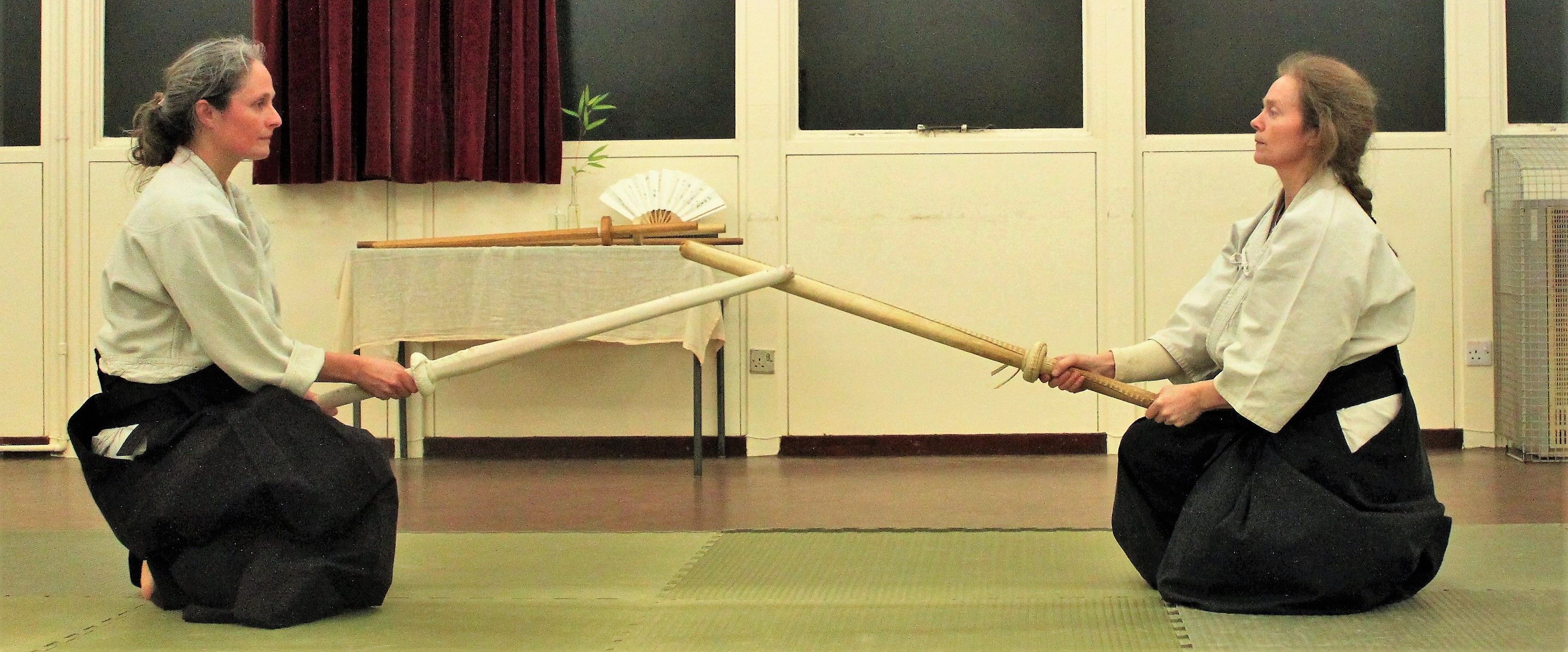 Classes currently running in term time only
Weekly Classes for adults and teenagers
Classes restarting on Wednesday 6th September 2023, after summer break!
Wednesdays 6.45-8pm for teenagers 6.45 -8.30pm for adults. Class runs throughout the year at The Westcott Village Hall
Kids classes (6-12 years old) – 12 classes per term
No classes running at the moment, please get in touch if you would like your child to join the waiting list for a class. Once enough children have registered we will start a class at The Westcott Village Hall ( previously known as The Westcott Reading Room)
Venue
The Westcott Reading Room, Institute Rd, Guildford Rd, Wesctott, RH4 3NP.
Class fees
Single class fees: Adult £15, Teenager £13, Child £10(trial fee)
Block advance booking fees:

5 consecutive classes: Adult £65, Teenager £50
10 consecutive classes: Adult £110
Children: Book a block of 6 classes for £50, each half a term in advance
About the Dojo
The Dojo was originally set up in Battersea, London by Nicola Endicott in 1998. A Dorking branch was set up in 2007 and all classes moved to Dorking in autumn 2008.
Our Dojo is a member of the International Shiseikan Budo Association (ISBA).
The main teacher at the Dojo, is Nicola Endicott, who is a 4th DAN and has been teaching for over 24 years. She is DBS checked through the Amateur Martial Arts Association.
About Aikido and Kenjutsu
In order to practice Aikido and Kenjutsu we practice developing a calm presence and a good connection with ourselves, on both a physical, emotional and mental level. The class normally starts with a 'warm-up', during which time we do breathing, stretching and centering exercises. These give us a good foundation from which to practice Aikido and Kenjutsu.
Joining the Dojo
You can join the Dojo at anytime of the year. Beginners are welcome!
Adults and teenagers are asked to watch a class first, for which there is no charge. Then, join in on the next class.
Annual membership fee
After an initial trial class you will need to become a member of the Dojo, this is £30 a year for adults, £24 for teenagers and £18 for children. This membership includes martial art insurance.
What to wear:
You can wear a tracksuit bottom and a long sleeve t-shirt when you first start classes. After that you will be expected to buy your own white Aikido suit.
Equipment:
The Dojo cannot currently share equipment, so students must provide their own wooden swords or other weapons when they come to classes. We recommend to buy them through ninecircles website. Please speak to the teacher prior to doing so, to make sure you purchase the correct equipment.
Links
Contact
Send an email